Description
THE ONE STEP SOLUTION FOR A MESSY WARDROBE!
The all-in-one Organizer Set that will declutter any drawer, closet or room and save you TONS of time on a daily basis! 
Easily categorize, browse and access your wardrobe - no more rummaging through your drawers and closet for your favourite shirt, t-shirts, pair of pants, sweater, sarees, etc,.. - the Wardrobe Organizer Set has you covered!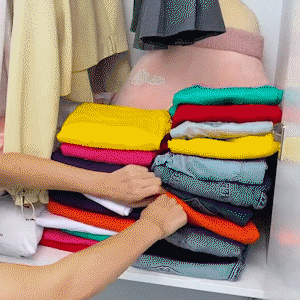 BENEFITS OF WARDROBE ORGANIZER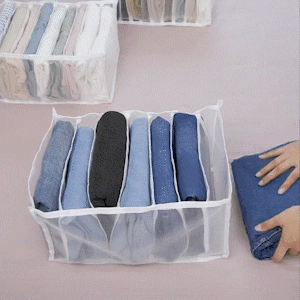 ✔ KEEP ORGANIZED - Staying organized has never been easier! Use them in your drawers, in your closet, on your shelves, under your bed, wherever your heart desires!
✔ BROWSE WITH EASE - It lets you display your wardrobe neatly and conveniently, so you can browse through your entire wardrobe in seconds.
✔ SAVING SPACE - It helps you use your closet, drawer and shelf space more efficiently. More space to store your items means less clutter.
✔ PERFECT FOR ALL TYPES OF CLOTHES - Great for pants, shorts, skirts, sweaters, shirts, leggings, hats and more. Have peace of mind knowing your entire wardrobe is perfectly organized.
✔ WASHABLE - When you use it for a long time and feel that it is dusty, you can rinse it under water.
They're designed to help you free up closet space and keep a more organized wardrobe, so you can browse your clothes with ease.
It's the perfect solution for anyone looking for organize wardrobe and drawers neat and orderly.
SPECIFICATIONS
Size: 35 X 25 X 20 CM
Color: Color as per availability
Shipping & COD
We are delivering all over INDIA.
🇮🇳 DELIVERY:  Expected time for all orders in 4-7 days all over India.
Cash on delivery orders is available and it's FREE.